Although Originalflutes is not part of a non-profit organization, we do receive wonderful donations of historical flutes, from time to time. I appreciate these gifts very much and have included them here. I have identified the donors and given something of the story of each instrument, if available. If you are interested in making a donation, please contact me.
Anon Wooden Boehm  - This flute was purchased in 1918 by John W. Coulter, a 2nd Lieutenant in the American military stationed in Northern France. This flute was donated by Margaret and and John Mc Bride. This flute belonged to Margaret's father. It is in quite amazing condition. I plays extremely well with original pads, which have now been replaced. It had metal plugs in the open holes and they were easily removed. It always surprises me to find something this nice without a makers mark and working so well after 100 years! The flute was restored by Tim Burdick in Cleveland.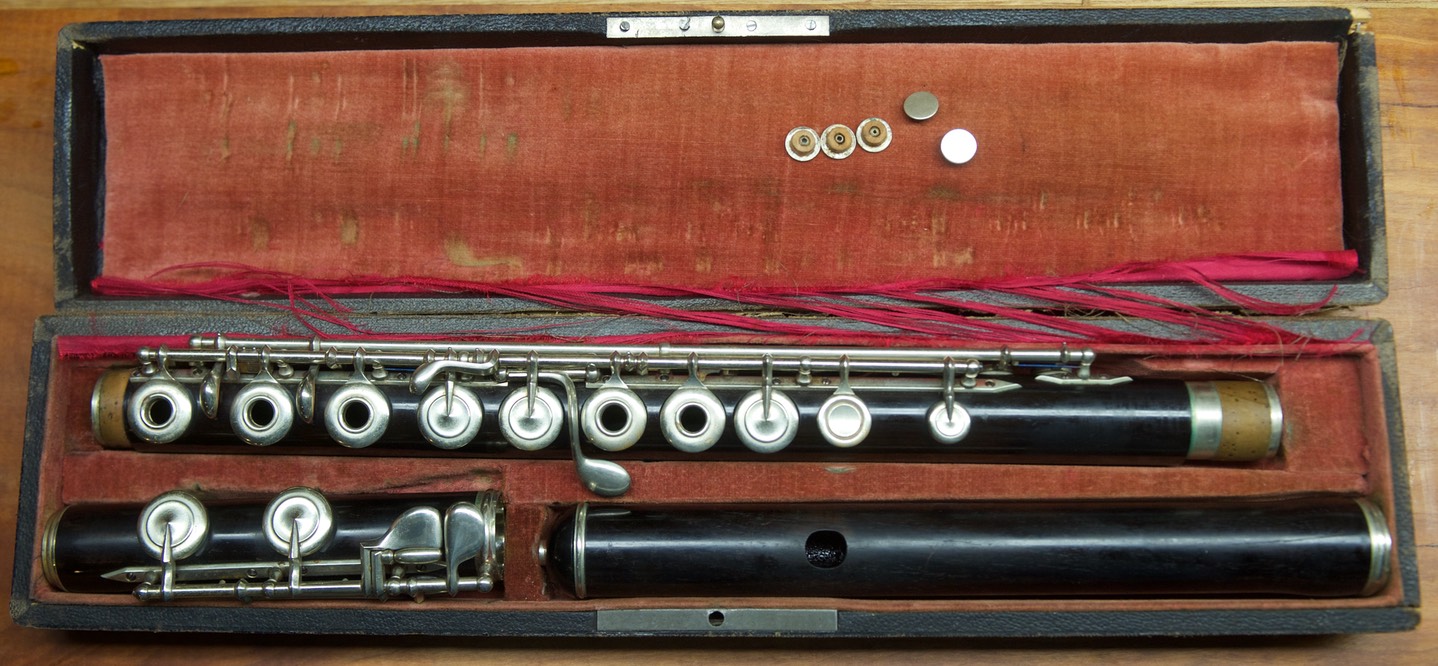 Bertolin Delusse copy (Resin) with original and Palancaesque embouchure - this was donated by GK
photo to follow
Metzler 4-key - this flute was donated by Lawrence Mirel who had received it as a gift in 1959 from an antiques dealer in Brighton. Larry was in England with the Yale Concert Band (although he is an Oberlin graduate) and Sidney Knight wanted to give him something in thanks for America's helping England in the War. What a nice gift. Larry has had it since then, but being a clarinet player, had never used it. He had it restored by Matt Slausen and then donated it to the collection.
Hamming 1-key - this flute was donated to the collection by Alex Shaffer. It was discovered by Jens Jacobsen in an antiques store in Montana. He showed it to his friend and flutist Alex Shaffer who contacted me about it. It is some of the best tiger stripe boxwood I have seen and Alex very kindly purchased the flute and donated to the collection. I then had it restored by Jon Cornia in California.